Admin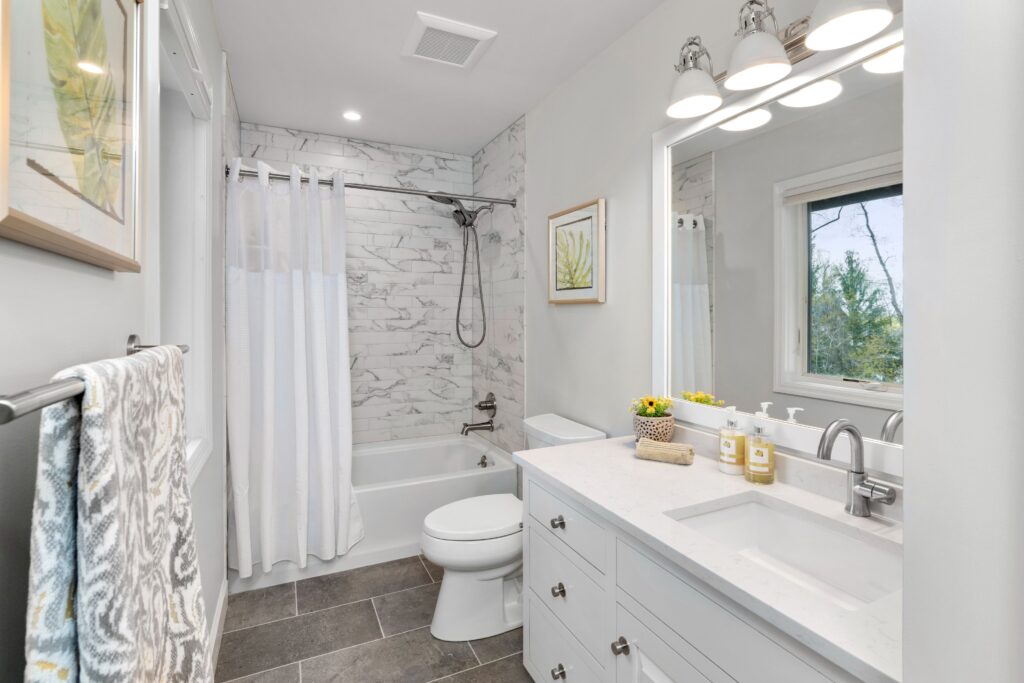 Most people dream of having a spacious bathroom with luxurious amenities. However, with hall bathrooms on the first floor of your home, you may not have the space for a large bathroom. According to Houzz, 26% of homeowners remodel non-primary bathrooms, making them the second-most-frequently updated rooms. If you have a small hall bathroom at home, you might be wondering how you can renovate it to make it seem bigger. Here are a few tips you can consider for your hall bathroom remodel with our team in Montgomery County, PA.
Use Large Mirrors
Installing large mirrors in your bathroom can make it look bigger than it is. A mirror placed on the wall opposite a window will reflect light and give the impression that the room is bigger and brighter. Mirrors can also be used to visually expand the space by putting them next to or across from each other. Rather than hanging small mirrors on the wall of your hall bathroom, consider using large mirrors that can get most of the room in it.
Use Brighter Colors
The brighter the color of your bathroom, the bigger it will appear. Using light colors such as white and other brighter shades can make your bathroom seem larger than normal. This is because brighter colors reflect more light. Also, painting your walls white during your hall bathroom remodel can create a seamless look, making your space look airy and aesthetic.
Incorporate Bright Lighting
Bigger and brighter lighting can make any space seem larger even if it's a small hall bathroom. There may not be a ton of natural light available in your hall bathroom, so adding brand-new lighting fixtures can ensure each inch of the bathroom is lit up. By having more lighting to showcase every part of the bathroom, it can decrease the shadows and make the space feel more open and brighter.
Get Rid of Clutter
Having smarter shelving installed in your bathroom and organizing the clutter can make your small bathroom look bigger. You even can create extra space by removing unnecessary items in your bathroom. Having shelves and cabinets installed can increase areas you can keep your bathroom necessities, so they aren't taking up most of your vanity.
Making your small bathroom look large is not impossible. With a properly done renovation by our team in Montgomery County, PA, you can achieve this. If you're ready to start planning your hall bathroom remodeling project, contact us today.